Shopping Cart
Your Cart is Empty
There was an error with PayPal
Click here to try again
Thank you for your business!
You should be receiving an order confirmation from Paypal shortly.
Exit Shopping Cart
LSB's Rabbitry
L.O.V.E. Some Bunny's
Holland Lops in WI ©
Email me your Winning Pictures and I will add them
GC LSB's Princess Sheri -- 6 GC Legs
bkn sable point doe out of GC LW Sheriff

6 GC legs
GC LW's Sheriff 6 GC leg - BOB 4/9/2011!!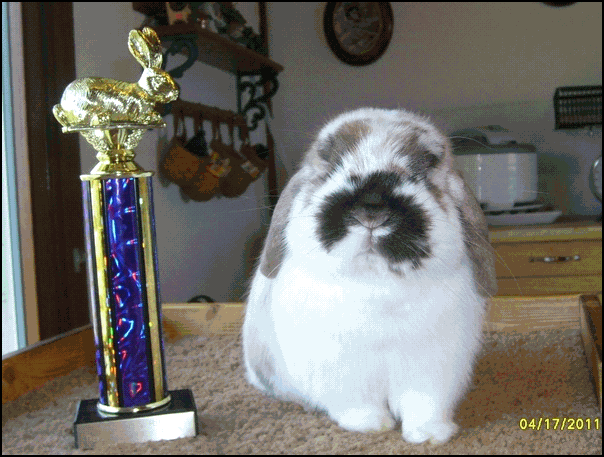 BOB Jefferson 4/9/2011
1st place senior broken buck 9/20/2009 Misty Hills RBA Youth Show Dodgeville WI. Best Broken!! BOV
3rd Place Junior Buck Lakeland RBA Elkhorn, WI 2/8/09
2nd place out of 8 rabbits -- Junior Buck @ Badger RBA Jefferson, WI 3/8/09
1st place BOV March 2011 Jefferson, WI
1st Place Sr Buck Jefferson, WI. And Best Of Breed (BOB) 4/9/2011 Registered and GC # issued
LSB's Princess Paris * LSB's Foxy Sheriff daughter is...Best of breed Columbia County Fair 2010
LSB's Princess Paris VC 1 GC Leg BOB 11/14/09
11/14/2009 BOB CWRBA Marshfield, WI
LSB's Foxy Sheriff BOS Badger Show March 2010!
9/20/09 Misty Hills Dodgeville, WI. Solid Junior Bucks: 2nd place out of 16 rabbits. Open show.

7 GC leg: Badger BOS open show 1st out of 24 in his senior bucks class. BOSV 3/2010
7/09 picture... as a youngun
LSB'S GOTTA FINE JEWEL -REW 2 BOB 2009!
REW doe - Congrats Nikki on winning 2 BOB in 2009!!
Out of LSB's Gotta Snowball * GC LW Sheriff!
Nikki sweeps the 2009 Columbia co fair - 5 BOB and a best in Show!
All this in one show!
1 BOB Lodi Agri Fair 09
1 BOB Columbia Co Fair 09
GC LSB's Black Jack 11 GC Legs
too many wins to list but even a best 4 class

sold to Jared Smith and then Krowlows rabbitry acquired him as an older bunny

I have some of out him here still.
Another BOB Winner and 2nd place winners
Congrats Shea and family!
LSB's Snow Storm 1 GC Leg
out of LSB's Heath Ledger x LSB's Snowbell.
LSB's Oreo Cookie 1 GC leg another BOS
More winnings from rabbits purchased here :)
LW's Sheriff got a 1st place ribbon and placed 2nd among a total of 10 Senior Bucks (so close!) 2009
LW's Gotta Have It got a 1st place ribbon. She went on to win Best Opposite in 2009 and Best Of Breed 2010 & 2011! Jefferson County Fair.
/